Since 1978 Country Meats has sold over 135 million smoked snack sticks to help fundraisers meet their goals! We started in a retrofitted barn creating some of the tastiest smoked snack sticks around!
Country Meats is dedicated to bringing you high-quality snacks which deliver top-notch fundraising results. With 12+ flavors, there is something for everyone to enjoy. Our snack sticks are made with 90% lean meat and are slow-smoked for 18 hours. They are high in protein, low in carbs, and have 0 trans fats!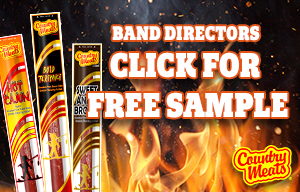 Sell each stick for $1, and earn a 45% profit. That's a $65 profit per case! Simple. Each case is $89.00 including S&H, and we give 10 free sticks that, when also sold for $1, will cover the S&H costs.
Country Meats also has an option for those who can't fundraise face-to-face. With our NEW Contactless Fundraising option, we've created a system for you to effortlessly raise funds for your amazing cause! Supporters of your fundraiser will order directly from CountryMeats.com, pay online, and we will ship the order to them. Your supporters will receive their delicious Country Meats snack sticks in just a few days. Then after a short period of time, we will mail you a check for your fundraising profits!
Check out Country Meats' easy-to-use online order form and order yours today!
We also offer a FREE sample to any fundraiser wanting to taste the amazing quality of our snack sticks.