The Allora Brass Tradition: Old World Craftsmen meet 21st Century Technology
by Don Sumwalt, Woodwind & Brasswind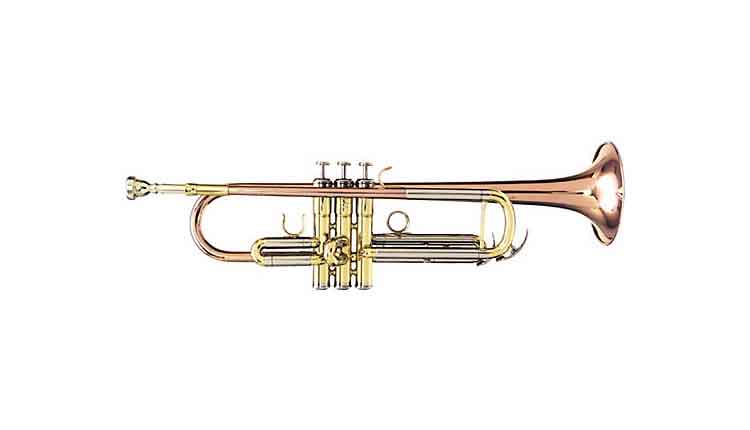 During the school year, directors observe the musical progress of their students. The director starts to see a picture of how great the band sounds. The long winter months brings images of students preparing for upcoming solo and ensemble festivals. However this picture is one of student frustration and disappointment. We see the advancing player stopped in their tracks with a student instrument that can no longer facilitate the player's needs. This problem can be compounded with limited finances that prevent the student from upgrading their instrument. It becomes a struggle for directors that know the student needs a better instrument, but feels uncomfortable suggesting an expensive name-brand professional instrument for the parents to purchase.
Instrument manufacturers build student instruments with some basic requirements in mind: Manufacturer an instrument that will be easy to produce a tone; be durable to withstand the rough handling of an inexperienced player; and be able to provide this instrument at an affordable price. An intermediate instrument offers a bridge between beginning instruments and their professional counterparts. Intermediate instruments are manufactured out of materials that facilitate better tone and response; allow the flexibility of facilitating development of technique through more refined and additional features; and provide the musician and parents with a budget-friendly instrument. These principles are the driving force behind the creation of Allora Brass instruments.
Recently, technological advances in instrument manufacturing have brought worldwide offerings of instruments. The world market is providing quality alternatives to more traditional name-brand instruments at a fraction of the cost. The combination of traditional European craftsmanship and contemporary manufacturing techniques guarantees that all Allora instruments are created to provide the highest quality available. Allora Brass offers a variety of step-up instruments, which include Trumpets, Flugelhorns, Double Horn, Trombones, Euphoniums, and Tubas.
Trumpets and Flugelhorns
The Allora trumpets and flugelhorns represent a truly outstanding value in the world of artist model instruments. The trumpets and flugelhorns produce a rich, full sound with excellent intonation. Each trumpet and flugelhorn is constructed with innovative concepts such as corrosion safe gold brass lead pipes for long life. The single seam hand hammered bell has a soldered rim wire for increased strength and resonance. The bottom valve caps have a unique grime-gutter and the top caps have oil resistant rubber felts to keep the valve action flawless.
For more information about the Allora AA101 Silver Trumpet Click Here
For more information about the Allora AA102 Silver Trumpet with Gold Trim Click Here
For more information about the Allora AA103F and AA103FS Flugelhorns Click Here
Double Horn
Allora French Horns are built with the latest advances in manufacturing such as ball bearings on both ends of valve lever mechanism for smooth quiet operation. The three-dimensional adjustable finger hook has a ball bearing and security catch, which can be regulated with a standard Allen key for a custom player fit. A hand made seamed bell stem with a plasma welded attached bell flare sturdy two-seam bell has a soldered brass rim wire for increased strength and resonance. The precise tapered rotors are designed for durability and quiet fast action. The horn has a Geyer style valve assembly with nickel silver inner and outer slides. For more information about the Allora AA301 Double Horn Click Here
Trombone
Master craftsmen devoted to quality and perfection in the finest old world traditions build the Allora trombones. This large bore (.547″) model trombone includes an F Attachment with ball bearings in both ends of the valve lever mechanism for smooth, quiet operation. The hand hammered one-piece bell offers clear projection and resonance. The lightweight hand slide has a nickel-silver bow that provides safety against corrosion. The precision made tapered rotor offers quiet, fast action and durability. This trombone is also available with a Thayer Axial Flow valve.For more information about the Allora AA210 F Attachment Trombone Click Here
For more information about the Allora AA1201 Thayer Valve Trombone Click Here
Euphonium
The Allora Euphonium offers excellent intonation and stellar projection while presenting a quick response and warm lyrical sound. The 4-valve non-compensating euphonium has three top action valves and one side action valve. The Allora Euphonium offers a corrosion safe gold brass lead pipe. The soldered brass bell wire with a plasma welded seamed bell stem provides improved resonance of sound. Easy grip threaded valve top caps allow worry free access to the valves. Silent nylon valve guides give quality action with easy replacement. An integrated hand rest in fourth valve slide tubing for lighter weight and comfort plus a lowered third slide positioned closer to the branch is ideal for smaller hands. For more information about the Allora AA401 and AA401S Euphoniums Click Here
Tuba
Considered the epitome of strength in tuba design, the Allora tuba offers numerous features for the advancing player. Thicker metal body composition has judicious placement of additional protection for the branch and bottom bow. The lead pipe receiver is reinforced to give extra stability. The tuba includes corrosion safe solid brass lead pipe, and nickel silver inner and outer main tuning slide for durability. The hand made seamed bell stem with plasma welded attached bell flare (sturdy two seam bell) has a soldered brass wire in the rim. This four rotary valve tuba also has mini-ball linkage for quick, silent action.
For more information about the Allora AA186 Rotary Valve Tuba Click Here
Regardless of your musical needs, Allora Brass instruments are up to the challenge of not only meeting those needs, but also surpassing them. These fine instruments allow your students to improve their tone and technique without breaking the bank. See the frustration of your students change into a renewed enthusiasm for music with a price that parents will love. This energy will not only show in the student performance, but in your ensemble's performance as well. The picture of sound that develops will be marvelous.