Besson is Back!
A band director's guide to these legendary instruments
by Dr. Marc Dickman
University of North Florida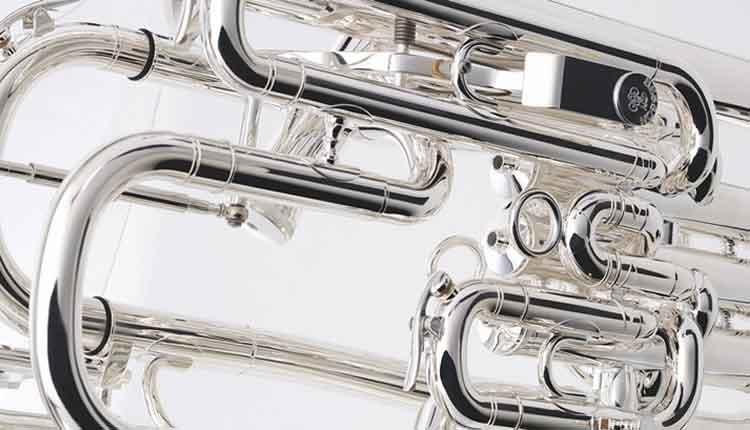 Many people may not know that the well-known French instrument manufacturer, Buffet Crampon, now owns the Besson brand of Tubas and euphoniums. After a brief hiatus from building instruments, Besson is back and increasing their share hold of the tuba and euphonium world. The North American distribution hub is located in sunny Jacksonville, FL. Below is a brief history of the Besson Company.
In 1837, Gustave-Auguste Besson (1820-1874), an acoustic science genius, created the Besson brand in Paris. His new cornet revolutionized the concept and has marked minds and hearts even in our time. His instruments became famous in Europe, and he has been accredited with over fifty inventions.
In 1858, following a long series of lawsuits with Adolphe Sax, Gustave-Auguste Besson left Paris to build a factory in London. Over the following years, Besson continued to manufacture in Paris and London, and also had warehouses for distribution in Brussels, Charleroi, Madrid, and Barcelona. Following Gustave-Auguste Besson's death in 1874, the company changed its name, becoming Fontaine-Besson in 1880 in France, and Besson in England.
At the same time, another English manufacturer was becoming well known: Henri (John) Distin, born in London in 1819.
Henri Distin and his new flugel horn were active in the development of brass bands in England. He created a new line of instruments under his own name, and in 1872 the Distin brand was bought by Boosey (a music publisher since 1792, and a manufacturer of instruments since 1851). D.J. Blaikely, the inventor in 1878 of an automatically compensating tuning system for valves, collaborated with Distin and together they developed a new range and improved existing models.
In the 1930s in Paris, Strasser Marigaux and Lemaire, SML, all produced instruments for Besson with Aubertin. In 1957, Couesnon bought the French company Fontaine Besson.
In London, at the same time, Boosey & Co and Hawkes & Sons of England merged to create the group Boosey & Hawkes.
At the end of the nineteenth century (1894), the Besson factory of London employed 131 workers, producing 100 brass instruments a week, and no less than 10,000 musical ensembles appeared on their contact lists. In 1925, Besson purchased Quilter, and Wheatstone & Co. in 1940. In 1948, the group Boosey & Hawkes acquired the Besson London brand.
Always on the leading edge in design and manufacture, Besson became the brand of recognition for euphoniums, cornets, tenor horns, baritones and tubas. Extensive research enables the company to produce the best valve instruments available today, along with an innovative range of rotary valve instruments.
In 2003, Boosey & Hawkes separated from the cream of the crop in French wind instrument manufacturing, to join The Music Group. In 2006, at the initiative of its CEO, Paul Baronnat. BUFFET CRAMPON acquires two famous brass instrument brands, Antoine Courtois Paris (created in 1803) and Besson (created in 1837). The company became Groupe Buffet Crampon, with two subsidiaries, in the United States and Japan, and in November 2007, it appointed Antoine Beaussant as new Chief Executive Officer.
By joining the Buffet Crampon Group, Besson has restructured and relaunched its production of professional instruments in Germany and France. The Besson student instruments continue to be manufactured in the factory near Delhi, in India, under the supervision of specialists from the Buffet Crampon Group. A global leader in professional-level clarinets, Buffet Crampon applies all of its technical, acoustic, organizational and marketing talent, as well as its international distribution network, to the Besson brand.
Besson's spirit of innovation and tradition continues to exist worldwide, and is today, as it was in 1837, the symbol of European know-how.
The most talented musicians all over the world, who seek above all "the real Besson sound", esteem Besson brass instruments.
About the Buffet Crampon Group: 
Through its three brands, Buffet Crampon, Antoine Courtois and Besson, the Group is present in the woodwinds sector (clarinets, bass clarinets, oboes, bassoons, saxophones) and brass instruments (trumpets, cornets, flugelhorns, trombones, French horns, tenor horns, baritones, euphoniums, tubas, saxhorns). The BUFFET CRAMPON professional models are manufactured in the finest tradition of French instrument making, in the historical site in Mantes-la-Ville, in France.
Now for the juicy part! Each new euphonium is play tested by Steven Mead and/or Pat Stuckmeyer. If Pat or Steve discovers the slightest blemish on an instrument or unevenness of sound it results in an immediate return to the factory. Quality control is maintained at an incredibly high level.
Musicians who have decided to purchase a Besson are welcome to visit the warehouse in Jacksonville, Florida to select your instrument. The Jacksonville International Airport (JAX) is a major air traffic hub and hosts most major airlines. The Buffet Crampon office and warehouse has a large Wenger custom practice room for artists to play test instruments. I have also invited visiting artists try out horns at the University of North Fine Arts Center's Lazarra Hall and large rehearsal rooms.
For band directors that are looking for the Besson tradition at a great price, the new BE 1062 and 1065 student line will meet your needs. The valve section is flawless and the horn gets that warm Besson trademark sound. The 1062 has three valves and the 1065 is a four valve non-compensating system. These horns will give younger players a way to experience the Besson tradition at an earlier age.
The Prestige euphonium features a moveable main tuning slide to help artist center the pitch 100% of the time. Both the Prestige and the Sovereign come in two bell sizes. I like the sound of all of them. It is a matter of personal taste which bell sounds best. I chose the Sovereign with the larger bell. All euphoniums now come with a standard bass-trombone size receiver. I am sure many of you remember the surprise at discovering the older horns needed a "British" sized shank for the mouthpiece. Another important feature is that the 6th partial is now much easier to play in tune!
For you brass banders out there, there is also a parallel line of 3 and 4-valve compensating baritone horns!
If you have a question about the Besson line of euphoniums, baritones and tubas, please contact me.
Thank you for taking the time to read this article.
Dr. Marc Dickman
Associate Professor
Low Brass and Jazz Studies
mdickman@unf.edu
(904) 620-3841
---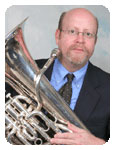 Dr. Marc Dickman, from Valdosta, Georgia, is a founding member of the acclaimed jazz studies program at the University of North Florida. Dr. Dickman earned degrees from Troy State University, McNeese State University, and the University of North Texas. His versatility on euphonium, trombone, bass-trombone, and tuba in the classical and jazz styles places him in much demand in the United States.
At UNF he teaches applied low brass and jazz ensemble. His students have won awards in the jazz and classical areas. Dr. Dickman was a featured jazz artist at the 2000 International Tuba Euphonium Conference in Regina, Saskatchewan, Canada, the 2001 ITEC in Lahti, Finland, the 2002 ITEC in Greenville, NC, and the 2004 ITEC in Budapest, Hungary, and the 2005 and 2008 U.S. Army Tuba Euphonium Conference.
Dr. Dickman is a founding member of the groundbreaking jazz ensemble, the Modern Jazz Tuba Project. The MJT Project has two critically acclaimed releases; Live From the Bottom Line, and Favorite Things. Marc's CD, A Weaver of Dreams, is available at cdbaby.com and tubagear.com. It is the first jazz euphonium recording to be available through popular services such as iTunes and Real Networks. Dr. Dickman has performed in the following countries: USA, Japan, Finland, Hungary, Paraguay, Uruguay, Canada, Honduras, and Columbia. Dr. Marc Dickman is a Besson performing artist.