Wind in the Reeds
The University of Florida Clarinet Ensemble Mitchell Estrin, Director Mark Masters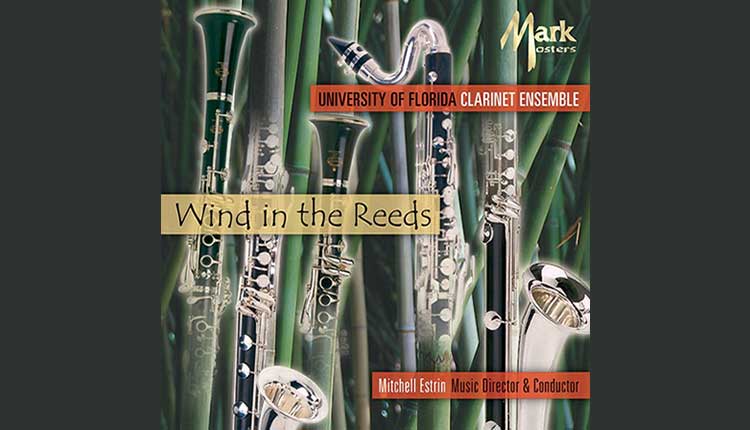 What ever became of the clarinet choir? Sadly the popularity it experienced during the 1950s under the guidance of such greats as Don McCathren and Lucien Calliet faded as following decades saw school music programs contract, composers lose interest and manufacturers back away from developing harmony instruments. Luckily for us today, recent years have seen a resurgence of interest in the clarinet choir and at the vanguard of this movement here in the U.S. is Mitchell Estrin and the University of Florida Clarinet Ensemble.
With its new recording, Wind in the Reeds, the UF Clarinet Ensemble explores the wide range of colors and tessitura available within the clarinet family utilizing both original works for clarinet choir as well as clever arrangements of standards like the Holst First Suite and Stars and Stripes Forever. Harkening back to the days of the true "balanced clarinet choir", Wind in the Reeds features complete clarinet orchestration from the Eb clarinet all the way down to the BBb contrabass. The Florida Clarinet Ensemble makes the most of these various tonal colors, both individually in original works for clarinet choir like A Butterfly Coughs in Africa (Richards) and Gordon Jacobs Wind in the Reeds or in the lush, section writing of Grainger's Irish Tune and Holst's Jupiter.
In addition to displaying the commitment of Professor Estrin to the clarinet choir medium, Wind in the Reeds also shows the depth of the clarinet program at the University of Florida. The playing is well centered in tone and displays crisp technique thoughout a wide variety of styles. This fine clarinet performance is further enhanced by the tasteful phrasing found under the baton of Mitchell Estrin, former clarinetist with the New York Philharmonic.
The band director or clarinet teacher will find Wind in the Reeds not only an enjoyable listen but also an excellent teaching tool. It superbly demonstrates the clarinet as it was meant to be played, as well as giving exposure to often overlooked members of the clarinet family. I recommend it heartily to any fan of the clarinet.
Mitchell Estrin is Associate Professor of Clarinet at the University of Florida and Music Director and Conductor of the University of Florida Clarinet Ensemble. Concurrently, he holds the position of Education & Creative Development Manager for Buffet Crampon USA, Inc. He also serves as the Artistic Director of the annual Buffet Crampon/Vandoren Clarinet Ensemble Festival and the Buffet Crampon USA Summer Clarinet Academy.