Eddie Daniels New Expressions Ligatures
Change the sound of your band! Try the New Eddie Daniels Expressions Ligatures.
For More Information Contact Jewel Musical Products
email: jewelmusicalproducts@gmail.com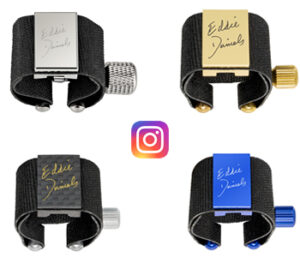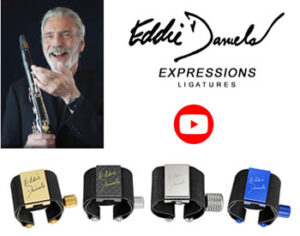 From Eddie Daniels
I love these ligatures because they keep the vibration of the reed at its MAX, while maintaining the hold and core of the sound.
Eddie Daniels Expressions Ligatures take Europe by storm!
Elisa Marchetti – Musikschule Aarberg, Sinfonisches Blaserchester
Ausiás Garrigós – Royal Liverpool Philharmonic Orchestra
Giampietro Giumento – San Pietro a Majella Napoli Conservatory
Piotr Lato – Academy of Music, Krakow
Andrea Poltronieri, Italian saxophone artist
Guido Arbonelli, Conservatorio de Perugia
Mattia Rizzuti – Soloist, Teacher, Principal Opera Plovdiv
Gysgt James Holt, 1st District Marine Corps Recruiting Command
Pablo Barragán, Orchestra Joven de Andalucia Irene Fernandez Mena, Manuel Castillo Superior
Conservatory of Music, Seville
USA
Anthony McGill, Principal Clarinet, NY Philharmonic Orchestra
"The Eddie Daniels ligatures are excellent ligatures. They have a nice combination of vibration and warmth!
Chad Burrow, Associate Professor of Clarinet, University of Michigan: "LOVE IT!"
Malena McLaren, D.M.A., Music Department Chair and, Professor of Clarinet NSULA: "absolute pleasure to play on!"
Dr. Karen Dannessa, , Professor of Clarinet, West Chester University: "My new favorite! WOW!"
Debra Richtmeyer, Prof. of Saxophone, University of Illinois: "I am extremely impressed!"
Joseph Lulloff, Professor of Saxophone, Michigan State University: "AMAZING!"
Alex Foster, Saxophonist, Saturday Night Live Band: "Highly recommended!"
Ed Joffe, Professional Woodwind, NY: "Beats any ligature I've played."
Marty Nau, Former lead alto, U.S. Navy Commodores jazz ensemble: "I never thought I would be excited over a ligature, but I am now!"
Sam Martin, Clarinet Associate Professor, Wayne State University, Michigan Opera Theater: "It's the best ligature I've played."
Nicki Roman, DMA, Assistant Professor
of Saxophone, University of Wisconsin-Milwaukee, "! I couldn't ask for more."
Armand Hall, Conductor/Clarinetist Rochester NY, Artistic Director, ROC Music Collaboration: "Nicely done!"
Legere Reeds: "The Eddie Daniels Expressions ligature plays Legere Reeds better than any other on the market!"
Chris Collins, Valade Chair in Jazz, Wayne State University: "This ligature represents excellence and must be experienced."
Gene Bruno, NY/FL saxophone artist: "As soon as I started playing, I heard and felt an immediate resonance in the quality of my sound."
Kenneth Tse, Professor of Saxophone, University of Iowa: "Some of the best in the market today. easy to use and yet very effective in their function."