New Owatonna High School Elevates Music Education and Performance with Contributions from Wenger Corporation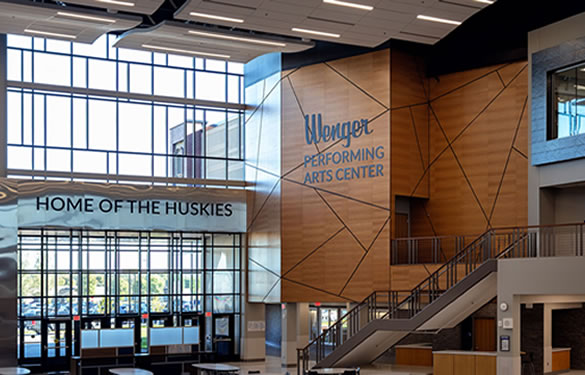 OWATONNA, MN (October 24, 2023) – The new Owatonna High School (OHS) opened this fall with a wide selection of products and solutions from the Wenger Corporation, including innovative offerings for the auditorium, music suite and athletic department.
"Wenger's contributions to Owatonna High School are the latest chapter in our company's proud history in Owatonna," said Dave Thomas, President & CEO of Wenger Corporation. "As always, our focus is improving opportunities and resources for students and educators. This continues the legacy of our founder Harry Wenger, a former Owatonna music teacher who started our company in 1946. Throughout the planning process, we collaborated with school officials, educators, and the design team to identify the specific needs of the students and staff who will be using each space," explained Thomas. He noted that Wenger follows this approach with any new school construction or renovation project.
"Our community embraced this project in an incredible way," said Kory Kath, OHS Principal. "Businesses supported us financially, community members served on our study and design teams, and our students and staff were fully committed. Now we are coming together to determine how to provide instruction and best use this new space."
The expansive, 317,000-square-foot high school opened its doors to its first students this fall after a three-year, $126 million construction project. Designed to accommodate 1,600 students with ample space for future growth, the school sits on an 88-acre campus. Beyond academic areas, the school also features new athletic facilities and practice fields. Wenger Corporation joined with other Owatonna businesses and organizations in making this new school possible.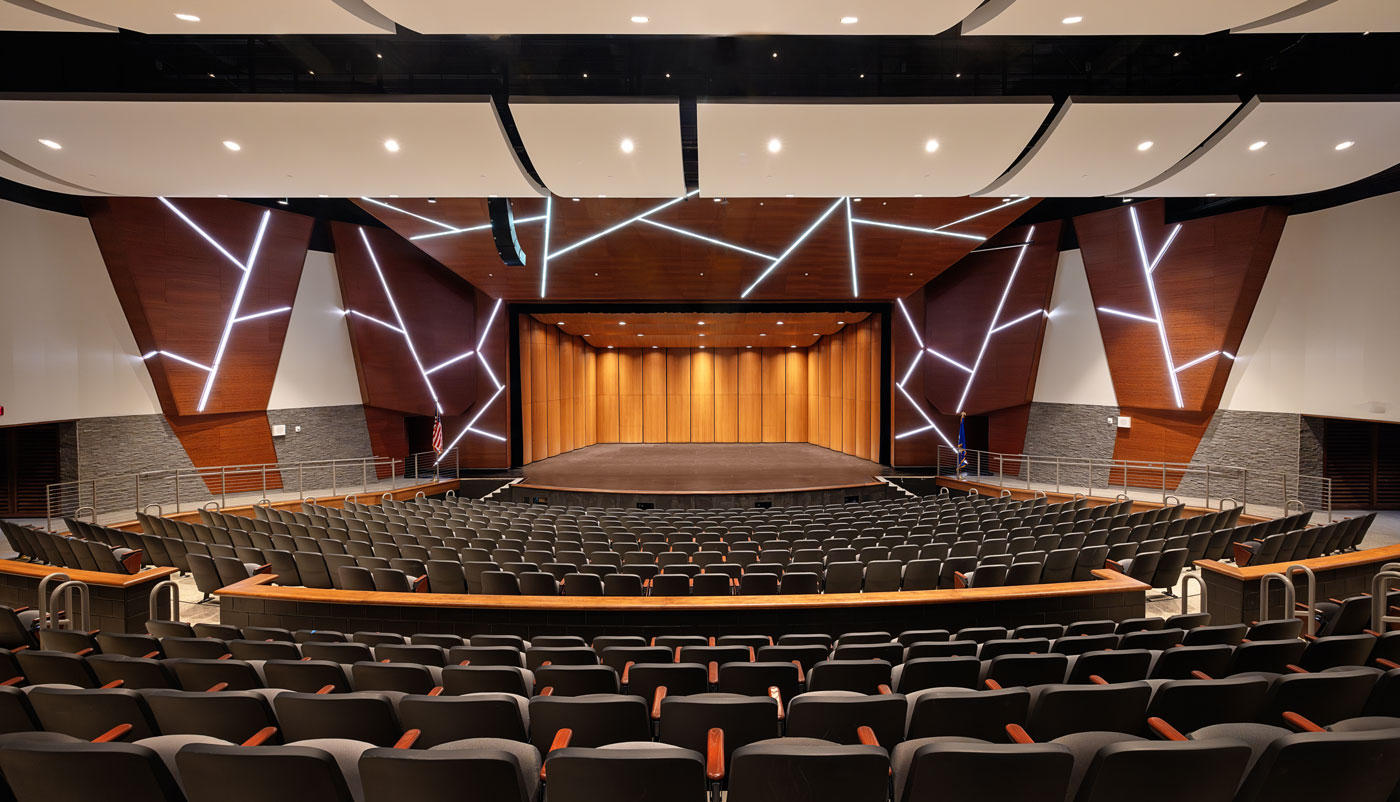 Wenger Solutions Enrich Learning
Wenger Corporation solutions, including Wenger, J.R. Clancy and GearBoss products, will benefit students and staff throughout the school:
Auditorium
In the new Wenger Performing Arts Center, a Diva® Acoustical Shell with Lieto™ LED light fixtures illuminate the stage. The Diva shell beautifully enhances sound projection to the audience while also improving acoustical responsiveness for the performers. The STRATA® Pit Filler ensures the safety of performers and equipment while providing flexibility for diverse productions, enabling seamless transitions between orchestra pit and stage configurations.
In the wings, the J.R. Clancy rigging systems automate the control of the Diva shell ceilings, and electrics using PowerAssist® and PowerLift® hoists operated by a programmable Vantis™ Pendant Controller. The performance space also includes a J.R. Clancy counterweight rigging system that offers students the valuable opportunity to gain experience in both manual and automated rigging systems.
"The new auditorium is a thing of beauty. We now have an orchestra pit that will make performing musicals far easier, rigging with line sets that will make loading in shows much easier, and easy-to-use control systems," said Erik Eitrheim, Language Arts Teacher, Theater Department Director, and Manager of the Wenger Performing Arts Center at OHS. "The students, local public schools, and the community as a whole will get a lot of use out of this space."
Music Suite
In the Harry Wenger Music Suite, Wenger's revolutionary Virtual Acoustic Environment (VAEÒ) technology was installed in the choir and ensemble rooms to improve acoustical response and accelerate learning. These innovative systems use an array of microphones and speakers, along with digital signal processing technology, to mimic the acoustics of a broad range of venues and enable performers to hear what they will sound like. The choir room and the band room are also outfitted with custom StageTek® risers and Signature® choral risers. Each rehearsal room is equipped with Wenger Nota® posture chairs, Bravo™ music stands, and Mobile Folio Cabinets. In the Band and Orchestra rooms UltraStor® Cabinets and Music Library Systems can be found for instrument and sheet music organization.
Lining the hallways in the music suite are UltraStor Instrument Cabinets, Folio Cabinets for music storage and SoundLok® Sound-Isolation Practice Rooms with VAE Technology.
"From the beautiful cherry floors to the chairs, stands, risers and the storage lockers that keep the clutter of cases out of the rehearsal rooms, to the natural light and high ceilings in our teaching spaces, these are all things that create a vibrant and positive environment for music making, which is why we're here," said Pete Guenther, OHS Band Director.
"In the first week of the music suite being 'live,' we had multiple students come to our area to use the practice rooms and ensemble rooms. Students are accessing the practice rooms when they have completed their work, during study hall, or when their ensemble has shared time," stated Sandra Justice, OHS Orchestra Director. "My heart is full seeing kids using the space as it is intended."
Athletic Department
Durable AirProÒ lockers, with their space-saving design, were installed in the team rooms. These lockers provide individual student-athletes with enhanced sanitation, security, and organization. Integrated seating and Owatonna Husky blue locker colors evoke school pride regardless of the sports team utilizing the space.
In the school's athletic storage facility, GearBoss® X-Carts™ maximize space by sliding together and apart, creating a smart system that protects equipment and provides multi-sport organization. Anchoring both sides of the storage rooms is GearBoss Shelving. This shelving system was configured to the specific needs of OHS to ensure they had maximum storage space in each room.
"The contributions from Wenger were a blessing to our overall school project," said Marc Achterkirch, OHS Activities Director. "It allowed us to install the best quality product on the market in our varsity locker rooms and storage areas. Our kids love them, our coaches love them, and they will last for many years to come."
"We now feel like a true campus," Kath said. "Every corner of our facility and everything that we do is about student learning, engagement, and connection. We are giving these students opportunities to live their passions."
Contact:
Whitney Winkels, Senior Marketing Communications Manager
whitney.winkels@wengercorp.com
+1.507.774.8235
About Wenger Corporation
Wenger Corporation enriches lives by enabling and inspiring great performances by engineering innovative products and solutions for music and theatre education, performing arts venues and athletic programs. Our portfolio of high-quality Wenger, J.R. Clancy and GearBoss products and solutions caters to music and theatre education, performing arts venues and athletics programs. Products include theatrical rigging systems, acoustical shells and treatment, acoustical doors, and sound-isolating practice rooms, fixed and portable audience seating, and portable and mobile staging systems. Our furniture line includes music posture chairs, music stands, conductor's equipment, and high-density and portable storage solutions for instruments, garments, sheet music and media equipment. We also offer a complete line of athletic lockers, equipment storage and transport products. For more information call +1.507.455.4100 or visit www.wengercorp.com.