XO Brass Welcomes Presidio Brass to the KHS America Family
Media Contact: Kevin Philbin, 615.793.9925, kevin.philbin@khsmusic.com
Youtube Video: https://www.youtube.com/watch?v=o7AejWhChsM&feature=youtu.be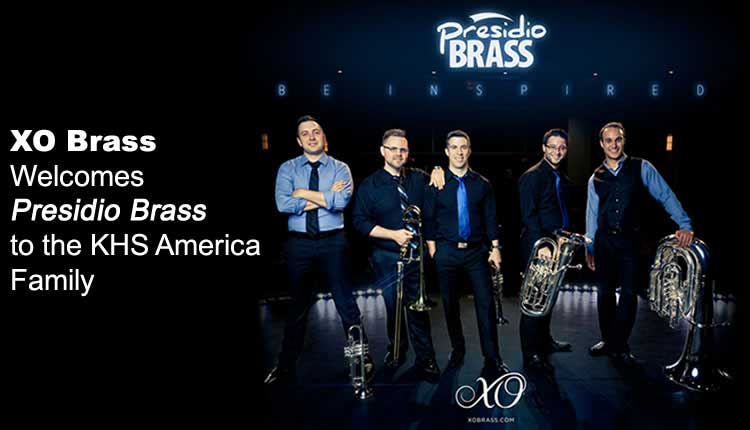 Mt. Juliet, TN – July 19, 2017 – KHS America is proud to welcome one of today's top touring professional brass quintets, Presidio Brass, as the newest member of the KHS America Academic Alliance performing exclusively on XO Professional Brass Instruments.
Since forming in 2006, Presidio Brass has rocketed to success, representing a bold new generation in brass entertainment. Combining brass quintet with piano and percussion instruments and employing fresh, original arrangements, their unique sound has become a trademark for the ensemble, captivating audiences everywhere. The five-member ensemble from San Diego, Californiafeatures trumpeters Steve O'Connor and Miles McAllister, Josh Bledsoe and Geoff Durbin on trombone, and tuba player Mike Frasier.
One common bond of these individual performers is that each member began his music career in school band. The inspiration provided by the dedicated school music educators that they encountered brought themtogether with the primary mission to promote music education and music appreciation. Knowing the profound impact that music has on lives, Presidio Brass couples master classes and other school programs with their performances at every opportunity.
"Continued dedication to music education is extremely important to us," states O'Connor. "The type of support that KHS offers to help school band programs provide a quality musical experience to their students was a huge draw. They always just seem to do the right thing and truly understand how to make a difference."
Upcoming educational events featuring the talented quintet include appearances at Disney's Thanksgiving Day Parade of Bands, the National Association for Music Education Conference, the Midwest Clinic in Chicago, and an event at KHS World Headquarters in Taipei. They look forward to their inaugural performances on XO Brass instruments.
"We can't wait to get our next tour going so we can perform on these horns," said Bledsoe."We recently visited KHS America, tried a bunch of different models and played a concert for their employees. The thought that went into the design of these XO models was immediately apparent. We all sensed a new level of control and felt at ease playing at all dynamics. These instruments really bring the Presidio sound to life!"
"We are really excited to work with an ensemble that brings youthful excitement and a high level of passion to their performances and educational outreach," says Rick DeJonge, KHS America Artist and Educator Relations Manager. "The group sounds fantastic on their XO horns and will be a natural draw for the next generation of student musicians."
"After we do a clinic at a school, we like to invite attendees to 'Pizza with Presidio'.It gives us the chance to just hang with the kids," says O'Connor. "We like to get to know the students, form friendships, and talk about the life changing experiences that music provides."
Presidio Brass concerts have been enjoyed internationally, with performances and educational outreach programs throughout North America and China. Presidio Brass has performed in over 40 states, conducted master classes at many of America's finest colleges and universities and have been featured on National Public Radio. The 2018 season will feature a brass quintet composition contest sponsored by the KHS America Academic Alliance. The winning student composer will receive a concert at their school and have their piece premiered by Presidio Brass.
Bledsoe comments, "This unique experience for a composer will be a fun event for all of us. It's fantastic to be part of a family that is innovative in finding ways to encourage creative expression and is willing to go above and beyond for students."