Beyond Talent
Creating a Successful Career in Music (Second Edition)
Angela Myles Beeching
Price: $21.95
Oxford University Press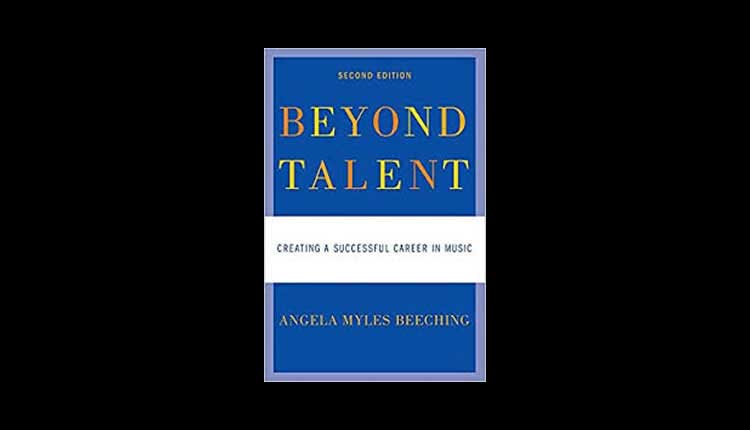 Description
The first edition of Beyond Talent quickly became a favorite among classical and jazz musicians, and has been used in courses at scores of conservatories and universities. This expanded second edition provides updated user-friendly advice, inspiring examples, and practical tools to advance a career in music. Packed with new tips and resources, Beyond Talent now covers everything from social networking tools, to commissioning, branding, and online fundraising, as well as tips on staying motivated, assessing one's strengths and weaknesses, and managing time, money, and stress.
Loaded with new sidebar profiles from entrepreneurial musicians, artist managers, and concert presenters, the new edition balances warmth and candor with straightforward advice on developing and sustaining a meaningful life in music. Beyond Talent is the ideal companion for students and professionals, emerging musicians, and mid-career artists.
Features
The most comprehensive music career guide available
Packed with real-life examples of musicians creating their own niches and entrepreneurial careers
Written by a musician and veteran music career counselor
Reviews
Starting with her love of music and years of experience in both academia and the real world, Angela Myles Beeching has written a book full of inspiring yet practical lessons for performing musicians – a kind of workbook for a life in music.
Charlotte Schroeder, President, Colbert Artists Management
Beyond Talent is like the ultimate Swiss army knife for the young musician. Packed with savvy insights, sage advice, practical ideas and inspiring examples, this comprehensive guide delivers the tools to navigate a successful path in music no matter where it might lead.
Phillip Ying, Violist, Ying Quartet; Associate Professor, Eastman School of Music, University of Rochester; former President, Chamber Music America
Beyond Talent is a wonderfully helpful book for the professional future of any young musician. Beeching writes clearly and comprehensively. Her book is a must for the library of any professional musician.
Robert Freeman, Dean, College of Fine Arts, the University of Texas at Austin
Product Details
400 pages
37 Illustrations
6-1/8 x 9-1/4
ISBN #: 978-0-19-538259-4ISBN10: 0-19-538259-5
About the Author(s)
Angela Myles Beeching has advised hundreds of musicians on all aspects of their professional lives. The former director of Career Services at New England Conservatory, she maintains a thriving private consulting practice. Her articles have appeared in Classical Singer, Inside Arts, and Chamber Music magazines. In demand as a speaker, Ms. Beeching has presented at conferences for the National Association of Schools of Music, the Association of Performing Arts Presenters, and the National Conference on Keyboard Pedagogy.
Companion Resources
The following resources are available from the "Beyond Talent: Creating a Successful Career in Music" companion site: