Time for a Fresh Start
By Randy Gilmore, Marching Show Concepts, Inc.
Originally published in News Horizons, Official Newsletter of the friends and family of New Horizons Tour & Travel, Vol. 12, Issue 1. Reprinted by permission.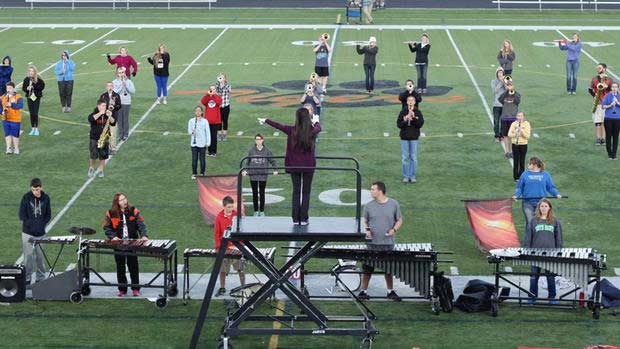 I long to accomplish some great and noble task, but it is my chief duty to accomplish small tasks as if they were great and noble.

Helen Keller
So many of us have great dreams for the next school year, but with the passing of each day we miss valuable opportunities to lay the groundwork for the fulfillment of those dreams. Now is the time to prepare for a more productive, well-organized school year. The following forward-looking tips will help you make more effective use of your time during an average week, as well as throughout the new school year. Remember it is not how hard you work, but how smart you work that is important. Work smart and fulfill your dreams!
Build an "office-to-go." Set up a briefcase with appropriate folders, scores, drill charts, and supplies, so you'll have what you need to do work on the fly. Many people lose opportunities to be proactive because they are not equipped to take advantage of time pockets that open up as they're moving around during the day. Start with the basics: pen and plain paper for capturing ideas, goals and other planning thoughts, music scores, sticky notes, paper clips, binder clips, tape and a calendar. Don't lose a creative idea or miss an opportunity to jot down some thoughts the next time you're in a traffic jam or waiting for someone to arrive.
Set up appointments, rehearsal and performance schedule for the year, or at least the first half of the year. Look ahead and make the appointments you know you'll need, such as recurring staff meetings, boosters meetings, conferences, your recruitment schedule, etc. Write them in your planner and don't think about them again.
Save time running routine errands. Seek out dry cleaners, drug stores, repair shops, etc. that are near the school. Better yet, find businesses that offer pickup and drop-off service. You could even contract with a courier service or individual to help you tackle these little time drainers that keep you running around unnecessarily. The time you save is usually worth the money you might spend on these conveniences.
The first person you always lead is yourself. And leadership is the skill that matters most in today's fast-moving, high-pressure climate. Take a moment to get yourself better organized with these simple tips so you can remain focused on the important things that contribute to a successful year with your students.
Randy Gilmore served ten years as a nationally recognized high school band director and assistant marching band director at West Chester University. Over the past 21 years, Randy has developed Marching Show Concepts (www.msconcepts.com) as a nationally known company for quality marching band products and exceptional one-to-one services. Randy exemplifies an expertise and standard of excellence that is well known and respected throughout the music industry. He is an accomplished clinician, adjudicator and drill designer who continues to display his talents in the MSC collection of products and services.