List of Well-Known Trumpeters
Dr. Gary Wurtz
Associate Professor of Music
Stephen F. Austin State University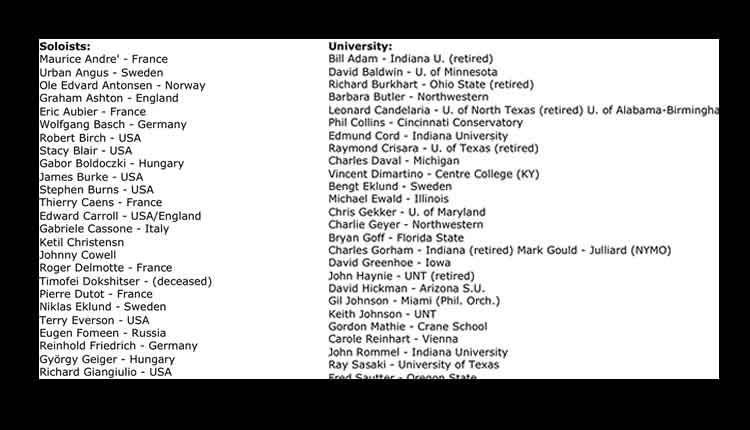 The idea of creating a list of well-known trumpeters was generated by a casual conversation with my college trumpet students some years back in which I found that they knew of only 2 or 3 modern trumpeters. I sat down and began listing every trumpeter I could think of, or had on a recording, and placed them in categories that reflected the area of trumpet playing with which they are most commonly associated. I came up with most of the names currently on the list, submitted it to a few of my good friends around the country who in turn added a few names to the list, and the result is what you see posted here. I make no claims that this is a complete list, and welcome any additions those of you who see it may want to recommend.
Maurice Andre' – France
Urban Angus – Sweden
Ole Edvard Antonsen – Norway
Graham Ashton – England
Eric Aubier – France
Wolfgang Basch – Germany
Robert Birch – USA
Stacy Blair – USA
Gabor Boldoczki – Hungary
James Burke – USA
Stephen Burns – USA
Thierry Caens – France
Edward Carroll – USA/England
Gabriele Cassone – Italy
Ketil Christensn
Johnny Cowell
Roger Delmotte – France
Timofei Dokshitser – (deceased)
Pierre Dutot – France
Niklas Eklund – Sweden
Terry Everson – USA
Eugen Fomeen – Russia
Reinhold Friedrich – Germany
Gyorgy Geiger – Hungary
Richard Giangiulio – USA
Ludwig Güttler – Germany
Håkan Hardenberger- Sweden
Jouko Harjanne – Finland
Hector Herzog – Germany
Knud Hovaldt – Denmark
Friedemann Immer – Germany
Michael Laird – England
Paul Lindsey – USA
Rafael Mendez' – Mexico (USA)
Sergei Nakariakov – Russia
Bo Nilsson – Sweden
Geoffrey Payne – Australia
Anthony Plog – Germany (USA)
Paul Plunkett
Rolf Quinque – Germany
Otto Sauter – Germany
Adolph Scherbaum – Germany
Ilia Schkolnik
Gerard Schwartz – USA
Yeh Shu-Han – Taiwan
Max Sommerhalder – Germany
Bernard Soustrot – France
Crispian Steele-Perkins – England
Markus Stockhausen – Germany
Edward Tarr – Switzerland
Pierre Thibaud – France
Guy Touvron – France
John Wallace – England/Scotland
John Wilbraham – England
Helmut Wobisch – Germany
Joseph Burgstaller – Canadian Brass
Mathias Hoffs – Germany -German Brass Ensemble
Philip Jones – England (deceased)
Stuart Laughton – Canadian Brass
Jens Lindemann – Canadian Brass (former)
Fred Mills – Candian Brass (former) (U of Ga.)
Robert Nagel – NY Brass Q. (retired)
Ronald Romm – Canadian Brass (former)
Wiff Rudd – Rhythm and Brass
Rolf Smedvig – Empire Brass
Phil Snedecor – Washington Symphonic Brass (Baltimore Symphony)
Herman Bellstedt
W. Paris Chambers
Herbert L. Clarke
Thomas Cook
Henry Higgins
Earl D. Irons
Emil Keneke
Bohumir Kryl
Jules Levy
Alessandro Liberati
Jack Macintosh Alice Raymond
Walter B. Rogers
Frank Simon
Leonard B. Smith
Delaware Staigers
Bill Adam – Indiana U. (retired)
David Baldwin – U. of Minnesota
Richard Burkhart – Ohio State (retired)
Barbara Butler – Northwestern
Leonard Candelaria – U. of North Texas (retired) U. of Alabama-Birmingham
Phil Collins – Cincinnati Conservatory
Edmund Cord – Indiana University
Raymond Crisara – U. of Texas (retired)
Charles Daval – Michigan
Vincent Dimartino – Centre College (KY)
Bengt Eklund – Sweden
Michael Ewald – Illinois
Chris Gekker – U. of Maryland
Charlie Geyer – Northwestern
Bryan Goff – Florida State
Charles Gorham – Indiana (retired) Mark Gould – Julliard (NYMO)
David Greenhoe – Iowa
John Haynie – UNT (retired)
David Hickman – Arizona S.U.
Gil Johnson – Miami (Phil. Orch.)
Keith Johnson – UNT
Gordon Mathie – Crane School
Carole Reinhart – Vienna
John Rommel – Indiana University
Ray Sasaki – University of Texas
Fred Sautter – Oregon State
Alan Siebert – Cincinnati Conservatory
Marie Speziale – Rice University
James Thompson – Eastman (Atlanta & Montreal Symphonies)
Allen Vizzutti – University of Washington
Bernard Adelstein – Cleveland (retired)
Andrew Ballio – Principal, Baltimore Symphony (ex. Israel Princ.)
Chuck Bergen – Phoenix
David Bilger – Philadelphia Orchestra
Mel Broiles – NYMO
Vincent Chicowitz – Chicago (retired)
Phil Collins – Cincinnati Symphony Orchestra
Jeff Curnow – Philadelphia Orchestra
Louis Davidson – Cleveland Orchestra (deceased)
John Dewitt – Houston
Bob Early – Philadelphia Orchestra
Glen Fischtal – SFSO
Rod Franks – co-principal, London Symphony Orchestra
Hans Gansch – principal, Vienna Philharmonic Orchestra
Armando Ghitalla – Boston S.O.(deceased)
Donald Green – principal trumpet, Los Angeles Philharmonic
Konradin Groth – prin., Berlin PO
Mario Guarnieri – LAPO
John Head – Retired principal, Atlanta Symphony Orchestra
Adolph "Bud" Herseth – Chicago S.O. (ret.)
Boyde Hood – Los Angeles Philharmonic
Frank Kadarabek – Phil. Orch.
Tage Larsen – Chicago Symphony
Manny Laureano – Minnesota
Rob Roy MacGregor – Los Angeles Philharmonic
Paul Merkelo – Montreal SO
Craig Morris – formerly Chicago SO
Maurice Murphy – principal trumpet, London Symphony Orchestra
Nick Norton – Utah S.O.
Raymon Parcells – Detroit S.O.
Vince Penzarella – NYPO
Pasi Pirinen – Finnish Radio Symphony
Roy Poper – former principal trumpet, Los Angeles Chamber Orchestra
Louis Ranger – formerly NYPO
Leon Rapier – Louisville S.O. (deceased)
Mark Ridenour – Chicago Symphony, acting principal
Michael Sachs – Cleveland Orch.
Will Scarlett – formerly Chicago SO
Charles Schlueter – Boston Symphony O.
Susan Slaughter – St. Louis
Philip Smith – NYPO
Marie Speziale – formerly Cincinnati SO
Thomas Stevens – LAPO (retired)
Gabor Tarkovi – Hungary – Berlin Philharmonic Orchestra
William Vacchiano – NYPO (deceased)
Tamás Velenczei – Hungary – Berlin Philharmonic Orchestra
Roger Voisin – Boston (retired)
George Vosburgh – Pittsburgh
John Ware – formerly NYPO
David Washburn – principal trumpet, Los Angeles Chamber Orchestra
Clifford Blackburn – manufacturer
Ruby Braff – long-time cornetist of note
Charles Colin – publisher
Charley Davis – Hollywood studio player
Allen Dean – USA (Yale)
Ralph Dudgeon – historian
Harry Glantz – NY
Claude Gordon – California artist- author
Conrad Gozzo
Don Jacoby
Manny Klein H.M. Lewis – historian
Raymond Mase – USA
Malcolm McNabb – Hollywood Studios
Ron Modell – Dallas Symphony, Northern Illinois University
David Monette – manufacturer
Timothy Morrison – Hollywood Studios
Donald Smithers – historian
James Stamp – Hollywood; teaching guru
Carl Saunders – LA session trumpeter and leader
Derek Watkins – eminent London studio
Nat Adderley
Cat Anderson – lead, Ellington Orch.
Louis Armstrong – early jazz pioneer
John Audino – Former lead, Tonight Show Band (deceased)
Chet Baker – mellow, vocals
Rick Baptist – Hollywood Studio lead trumpeter
Scotty Barnhart – Count Basie Orchestra (current)
Guido Basso – Boss Brass
Jeff Beal – contemporary
Bix Beiderbecke – early jazz pioneer
Bunny Berigan – Big Band
Terence Blanchard – contemporary
Lester Bowie – avant garde
Randy Brecker – contemporary; fusion
Bud Brisbois – Noted lead player (including on The Jetsons – deceased)
Clifford Brown – bebop
Donald Byrd – 60's bop and cool
Dick Cathcart (Kid Ory, Pete Kelly, and Lawrence Welk)
Bill Chase – Woody Herman; leader
Doc Cheatham
Don Cherry – pocket trumpet artist
Al Chez – Letterman Show trumpeter
Buddy Childers – Lead, Kenton and others
John Clyman – Retired Hollywood studio trumpeter
Conte Condoli – Tonight Show
Pete Condoli – Tonight Show
Miles Davis – "cool"
Kenny Dorham – 60's bop and cool
Harry "Sweets" Edison – lots Sinatra
Roy Eldridge
Don Ellis – avant garde
Hal Espinosa – Retired Studio and Big Band trumpeter
Jon Faddis – contemporary; screamer
Don Fagerquist – Famous jazz trumpet soloist (deceased)
Art Farmer – flugelhornist
Maynard Ferguson – high range pioneer
Bob Findley – LA studio
Chuck Findley – LA studio
Paul Fontaine – Former Woody Herman Herd/Berklee College
Laurie Frink – NY
Dizzy Gillespie – bebop pioneer
Greg Gisbert
Bernie Glow – lead trumpet for Woody Herman and many others
Gary Grant – LA studio
Frank Green – Maynard Ferguson Band
Bobby Hackett – Big Band
Tim Hagans – contemporary
Roy Hargrove – contemporary
Tom Harrell – contemporary
Jerry Hey – LA studio
Al Hirt – Dixieland
Freddie Hubbard – bebop, Woody Shaw – bebop
Mark Isham – contemporary
Harry James – Big Band leader
Ingrid Jensen – contemporary
Thad Jones – leader, writer
Warren Leuning – Top call Hollywood artist
Booker Little
Lloyd Luhman – Former Las Vegas lead trumpeter
Chuck Mangione – flugelhorn, leader
Sal Marquez – contemporary
Wynton Marsalis – contemporary
Hugh Masakela – S. African
Dmitri Matheny – SF trumpeter and flugelhornist
Mike Metheny – Kansas City trumpeter, leader
Blue Mitchell
George Mitchell (Jelly Roll and Kid Ory)
Lee Morgan – 60's bop and cool
James Morrison (Australia)
Mike Mosiello -1920's – 40's
Fats Navarro – bebop
Red Nichols – Big Band leader
Sam Noto – Kenton; Boss Brass
Nicholas Payton – contemporary
Mark Pender – "Late Night With Conan O'Brian"
Louis Prima – Big Band
Marcus Printup – contemporary
Al Porcino – highly respected lead player
Uan Rasey – respected studio trumpeter
George Rock – Former trumpeter for Spike Jones
Claudio Roditi – Brazil
Red Rodney
Shorty Rogers – 50's and 60's LA
Wallace Roney – contemporary
Jim Rotundi – New York
Arturo Sandoval – contemporary
Maria Schneider – contemporary
Carl "Doc" Severinson – Tonight Show
Charlie Shavers
Woody Shaw – short-lived influential bebopper
Jack Sheldon – LA
Bobby Shew – contemporary
Louis Smith
John Sneider – contemporary
Jay Sollenberger – Woody Herman, Stan Kenton, Chase
Lew Soloff – NY jazz;Blood, Sweat &Tears
Muggsy Spanier
Marvin Stamm – contemporary bebop
Byron Stripling – contemporary
Joey Tartell – Maynard Ferguson lead trumpet
Tony Terran – Studio trumpeter
Clark Terry – Basie soloist
Lee Thornburg – Tower of Power
Charlie Turner – Former lead, Frank Sinatra
Jeff Tyzik – Mangione orchestra (80's)
Warren Vache' Jr. – NY cornetist
Mike Vax – lead, Kenton band
Allen Vizzutti – contemporary, versatile
Scott Wendholt
Cootie Williams – soloist, Ellington Orch.
Mike Williams – lead, Count Basie Orch.
Snooky Young – Tonight Show
Gary Wurtz has been the trumpet professor at SFA since the fall of 1992, and began his duties as Jazz Band director one year later. His other duties at SFA include directing the Trumpet Ensemble and performing in the Pineywoods Brass Quintet.
This article is reprinted with permission from the Texas School Music Project web site (http://www.tsmp.org). This site is sponsored and produced by the music faculty at Stephen F. Austin State University with the purpose of providing practical information for public school educators, students, and all interested musicians.